We are Danny and Helen Evans, a husband and wife team based in the South West.
We offer a number of different catering options and home produce that we sell at food festivals, country shows and events.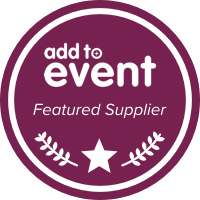 We are proud to be listed as an 'addtoevent featured supplier'  enabling us to be found by people who require high quality catering services for a wide range of events.
Most of our savoury options are made to order-freshly prepared-with an element of  'street theatre'  by Danny, who is a qualified chef.
We look to source our fresh ingredients from the immediate areas and use local greengrocer and suppliers, where possible we use organic ingredients.
For our luxury fudge and caramel sauces we use clotted and double cream from Langage Farm, from their wonderful Jersey and Guernsey cows in Devon. We also use seasonal produce  from our organic allotment at The Walled Garden Project at Escot Country Park in Devon and eggs from local village producers.  For our authentic crepes the flour comes from Moulin de l'Ecluse in Brittany.
The majority of our packaging is eco friendly; wooden cutlery, paper plates, paper bags and recycled paper serviettes, all of which are low-carbon, made from renewable or recycled materials, and all can be recycled along with food waste.